Skin Tag Removal
Skin tags are a common occurrence, with more than half of all people in Los Angeles and around the world being affected by at least one at some point during their lives. They are more common in adults, although toddlers are also prone to getting them. Obesity can be a factor in the development of skin tags, but they can happen to anyone, regardless of age, weight, or sex. Skin tags are almost always harmless, but there are valid reasons for people to consult with a New York dermatologist about removing them. These reasons can range from cosmetic concerns to potentially life-threatening conditions.
Free Consultations + Walk-Ins Welcome
What Are Skin Tags?
Skin tags are small flaps of loose skin that often resemble deflated balloons in shape and structure. When you first notice a skin tag, it may appear as a tiny lump on the surface of your skin. Although they generally do not grow larger than the size of a pencil eraser, some can become larger, even reaching the size of a grape. Skin tags should not be confused with pimples, moles, or accessory tagus, which are congenital abnormalities present from birth. Skin tags can occur anywhere on the body, but they are most commonly found in the following areas:
Skin tags can occur anywhere on your body, but they're most common:
At the base of your neck
In and around your armpits
In the folds of your buttocks and groin
On your eyelids
Under your breasts
BOOK NOW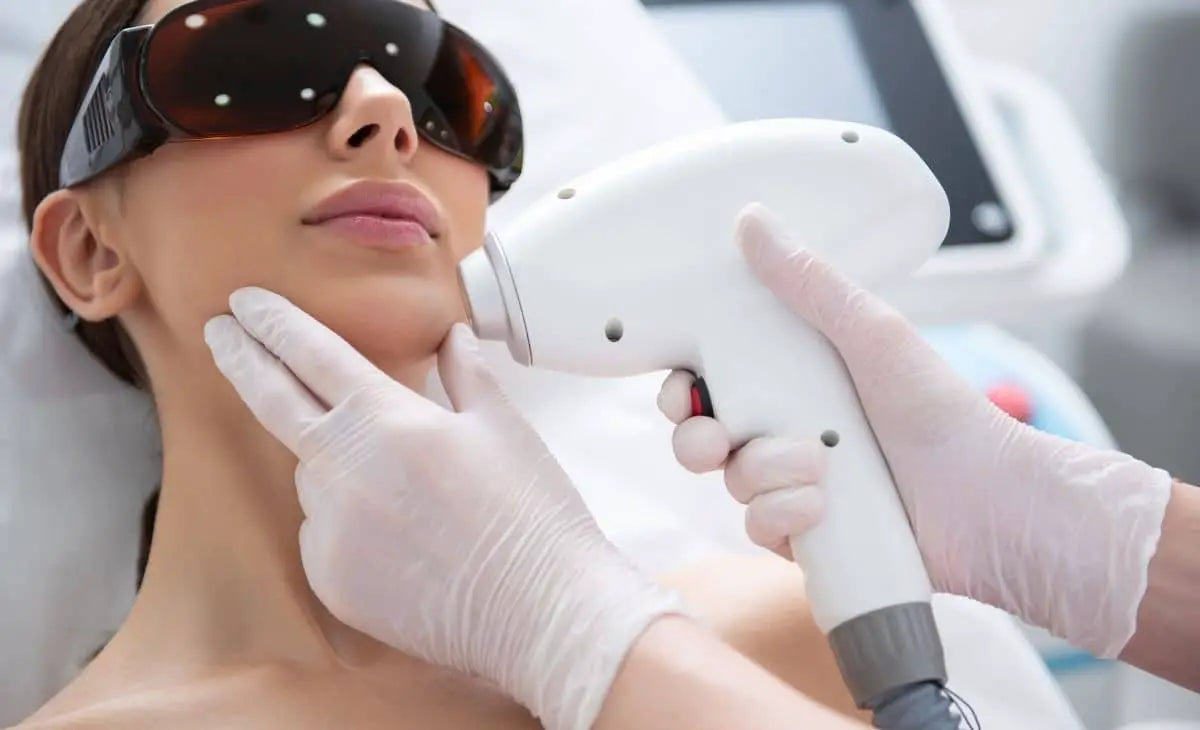 Reasons for Skin Tag Removal
Skin tags often develop in areas where the skin comes into contact with clothing, leading to irritation and discomfort at the site of the skin tag. Additionally, the aesthetic appearance of a new growth on the skin can cause discomfort, especially if the skin tag is in a noticeable location, such as on the face. In some cases, skin tags on the eyelids can obstruct vision and require removal.
Although rare, there is a small possibility for skin tags to be precancerous or cancerous. If you notice a skin tag that starts to bleed or has unusual colors such as red, brown, pink, or black, it is important to make an appointment with us immediately.
BOOK NOW
Skin Tag Removal Procedures
Medspa Deluxe LA uses cauterization methods to remove skin tags. It is best not to attempt self-removal of skin tags due to the risk of infection. Fortunately, having skin tags removed at Medspa Deluxe LA is a relatively quick and easy process, with few side effects or risks. The procedures include: As with any surgical procedure, it is essential to keep the incision area clean and dry afterward to reduce the risk of infection.
We will provide you with detailed post-operative instructions and guide you on how to care for the incision site. You will likely experience some pain afterwards, but this can often be managed with over-the-counter pain medication.
BOOK NOW
Testimonials


I've been here a couple times and have always received great customer service! Today I came in to get lip filler!

I really am blown away! My lips came out amazing!! Thank you lily for amazing service! She walked me through the steps and made sure I was comfortable for the entire process.

I can't wait to come back again to medspa deluxe LA!

karla M
This is my second time at MedSpa Deluxe and I can't tell you how happy I am. I was a Botox girl in the past and in March I was recommended Jeuveau by Lyli. I got 50 units of newtox and wow! Never will I go back to Botox!  I can definitely say that newtox lasted more than I expected!!!

Silivia G
This place has been my go to for years! Facial, laser hair removal, Botox, and fillers, they are who I trust the most. Their staff is always very sweet and welcoming. They know all about their products and make you feel comfy getting procedures done. I'm always happy when I am here! Definite recommend.

Ashley R
The service is great, they answer all my questions, everyone is so nice. Found them on yelp and decided to walk in and ask questions. I started my microdermabrasion & newtox journey & so far love the results.

Justine Z
Alexus and Lily are amazing. Love them both!!!!Super friendly. All staff at Medspa are very welcoming. I love how this office is always super clean. That's a plus for me.

Venessa M