What are dermal fillers?
Dermal fillers are injectable medications that help reverse signs of aging by filling in hollows, fine lines, and wrinkles on both your face and body. They can also add volume to your lips, lift your cheeks, and plump any area that has lost volume due to collagen loss. Unlike other cosmetic treatments that bring gradual results, the benefits of fillers appear immediately then last from four months to over a year.
Free Consultations + Walk-Ins Welcome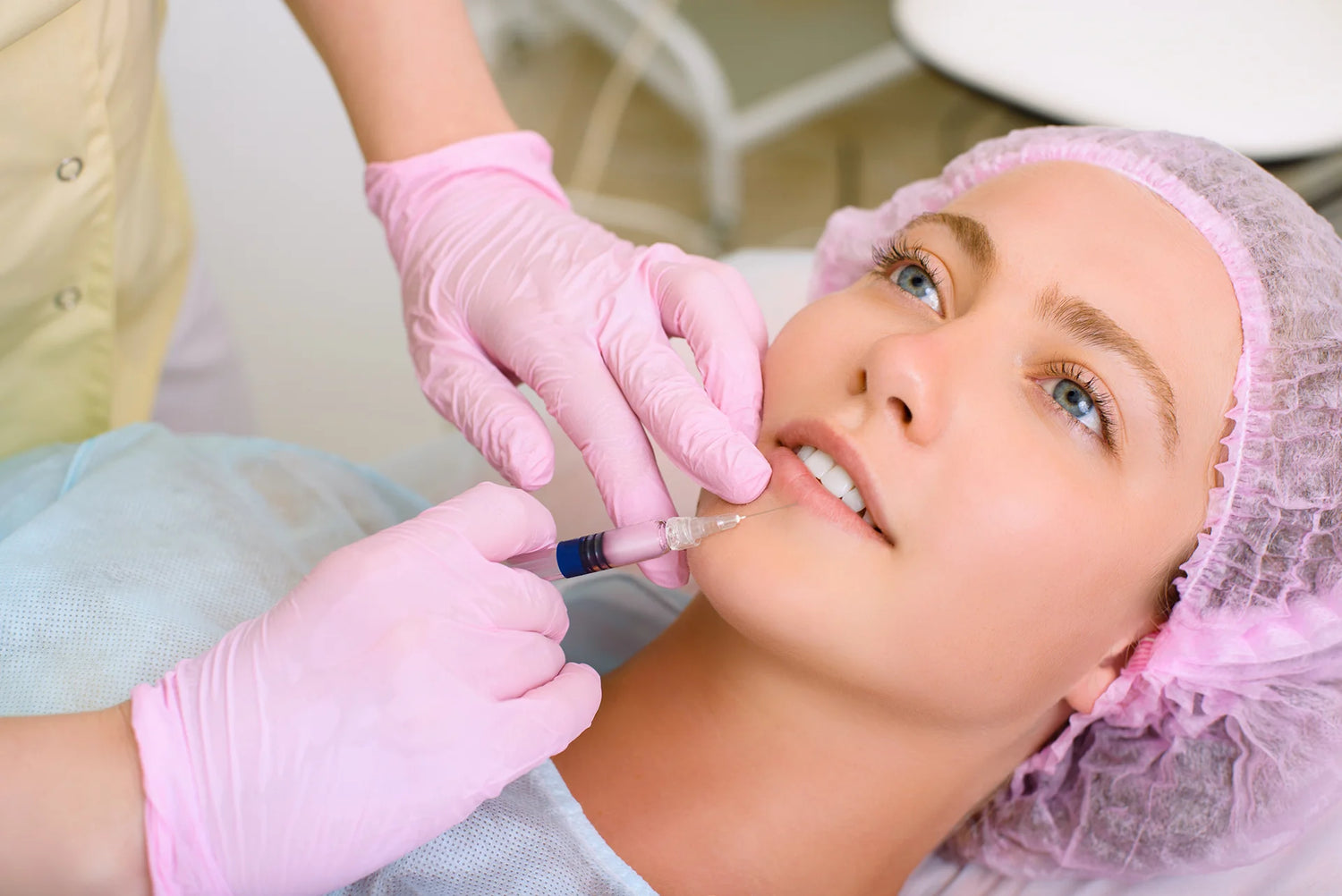 Medspa Deluxe LA provides a wide variety of fillers, including:
VolumaJuvederm Ultra XC®
Juvederm Ultra Plus XC®
Juvederm Vollure XC®
Juvederm Voluma XC®
Radiesse®
Versa
Versa Lips
RHA collection of fillers
Book Now
Frequently Asked Questions
 Which filler is right for me?

Each filler contains a unique blend of ingredients and works differently. Your provider atMedspa Deluxe LAcan help determine your best option based on your aesthetic goals. Certain fillers work best in certain areas, which we can discuss and determine during your consultation.
 How do dermal fillers work?

Some fillers are Hyaluronic acid dermal fillers that are made up of a soft injectable gel. Hyaluronic Acid is a molecule that's found naturally in your body. Once injected into treatment areas, it binds with water then expands, resulting in more volume and less sagging or wrinkling. The gel is tissue-friendly and long-lasting, though not permanent. Dermal filler treatments are widely used in medical aesthetics to add volume, plump up and reduce the appearance of lines and folds.

We also offer non-hyaluronic acid fillers, like Radiesse and Sculptra. Radiesse is made of tiny calcium-based microspheres suspended in a water-based gel. The calcium microspheres are similar to minerals found naturally in the body so allergy testing is not required. Over time, the body absorbs the microspheres and gel, leaving behind only natural collagen. As a poly-L-lactic acid (PLLA) collagen stimulator, Sculptra Aesthetic is different. It works with your body within the deep dermis, rather than topically, to help revitalize collagen production and help restore your skin's inner structure and volume. As the Sculptra Aesthetic PLLA microparticles are absorbed, they help stimulate collagen production. Rebuilt collagen strands begin gradually helping to restore facial volume and the look of fullness to wrinkles and folds.
 Do dermal filler injections hurt?

Most fillers contain the numbing agent - lidocaine - for comfort. We provide you topical numbing cream as well, and ice after the treatment. Though rare, you may experience some amount of pain, tenderness, itching, bruising, swelling, or redness after your treatment. These effects range from mild to moderate and are temporary.
 Can anyone have a dermal filler treatment?

Dermal fillers aren't intended for young people or those with skin injuries near injection sites. Let our team know if you're planning to have laser treatments or chemical peels, take blood-thinning medications, or if you have a history of excessive scarring. 
 What should I do after my dermal filler treatment?

Most people can go straight back to their usual daily activities after a filler treatment. You'll want to avoid strenuous exercise, alcoholic drinks, and extensive sun or heat exposure for 48 hours at least, to let the product settle successfully. To learn more, call Medspa Deluxe LA or request an appointment online.
 Are there any risks involved with dermal fillers?

All of our products are FDA Approved and safe for the body. Product-related reactions are rare. There are some injection-related reactions that include redness, swelling, pain, itching, bruising, or tenderness. After lip enhancements, there is usually some slight swelling that can occur as well.
Testimonials


I've been here a couple times and have always received great customer service! Today I came in to get lip filler!

I really am blown away! My lips came out amazing!! Thank you lily for amazing service! She walked me through the steps and made sure I was comfortable for the entire process.

I can't wait to come back again to medspa deluxe LA!

karla M
This is my second time at MedSpa Deluxe and I can't tell you how happy I am. I was a Botox girl in the past and in March I was recommended Jeuveau by Lyli. I got 50 units of newtox and wow! Never will I go back to Botox!  I can definitely say that newtox lasted more than I expected!!!

Silivia G
This place has been my go to for years! Facial, laser hair removal, Botox, and fillers, they are who I trust the most. Their staff is always very sweet and welcoming. They know all about their products and make you feel comfy getting procedures done. I'm always happy when I am here! Definite recommend.

Ashley R
The service is great, they answer all my questions, everyone is so nice. Found them on yelp and decided to walk in and ask questions. I started my microdermabrasion & newtox journey & so far love the results.

Justine Z
Alexus and Lily are amazing. Love them both!!!!Super friendly. All staff at Medspa are very welcoming. I love how this office is always super clean. That's a plus for me.

Venessa M